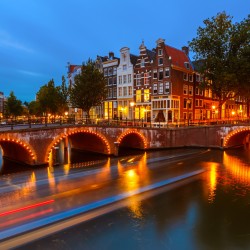 When to go to Amsterdam?  Windmills, blossoming tulips, canals or the city scape are just some of the attractions that bring visitors to this fascinating city.
Some travelers look to explore Amsterdam as an opportunity to entertain their vices such as smoking marijuana or prostitution of which both are legal. Amsterdam is famous (to some) notorious (to others) for the "Red Light" district for providing access to these indulges.
Amsterdam is also a great place to get outdoors. It is a city of rivers and parks with plenty of opportunities to ride bikes, take walks and engage nature. Van Gough and Rembrandt museums or Anne Frank's house are great places to peruse for art and history lovers.
When to go to Amsterdam
The best time to visit Amsterdam could be any chance you get. Amsterdam is a destination that serves tourist year round. However there are times that are better and of course more popular and more expensive.
Early April through mid-May is probably the best time to visit Amsterdam and experience the attraction that this city is most famous for – the blossoming tulips. The city and surrounding area comes alive with tulips and other flowers. The weather is fairly pleasant making getting out and enjoying the blooms an enjoyable experience.
Amsterdam has museums and historical sites to enjoy just like most other cities, but the blossoms are the number one draw. This makes this typical European shoulder season crowded with visitors.
Best Time to go to Amsterdam for the Weather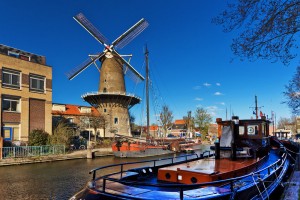 Amsterdam lies below sea level, which makes fog, mist and damp days probable, particularly during the months between September through December. The winter months will get to an average low of 33°F (1°C) and an average high of 42°F (5.5°C).
The best weather occurs during the months of July and August with the average low being 54°F (9°C) and average high reaching around 80°F (27°C). It can get as high as 90°F and with all the moisture in the air, this can elevate the humidity. This is the best time to visit based on weather.
If you are traveling to Amsterdam to experience the blossoms, you can expect cooler days. The average low will be around 48°F (9°C) with the average high at around 65°F (18°C). Hopefully, since we are talking about averages, your trip will occur when the temperatures are above average making for a more enjoyable outing.
When to go to Amsterdam: Leisure
Tulip (Bulb) Blossoms: The blossoming or flowering experience happens during the weeks from early April through mid-May. This is one of the biggest draws in coming to Amsterdam. These can be enjoyed with car rides or leisurely strolls, but one of the best ways is through biking around the tulip fields.
Amsterdam has two of the more popular festivals during the summer months. The Open Garden Days happens the third week of June every year. This involves 30 something canal gardens which are opened to the public. The Roots Festival occurs in July and offers visitors an array of music and non-European culture experiences. It has lots of activities for the kids.
The Red Light district can be experienced any time of the year. It is not uncommon for travelers to actually schedule a stopover solely for the purpose of visiting this part of city. The good news is that Amsterdam has so much more to offer when it comes to enjoying the city, culture, and historical facets of the area.
When to go to Amsterdam: More Info
When To Go always recommends looking at other resources for more information. You can visit the Amsterdam Tourism Board for additional insights on your travels to this incredible city.