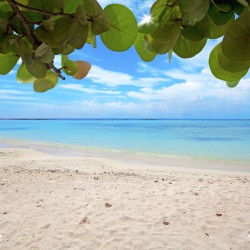 When To Go to Aruba? Aruba is a Caribbean island located in the southern part of the Caribbean near the coast of Venezuela in South America.  Aruba is affectionately referred to as, "One Happy Island."  One of the features comes form the islands desert characteristics that feature a variety of cacti.  However the main attraction to Aruba is the beaches, relaxed atmosphere and cool breezes that complement the warm temperatures.
When to go to Aruba: Weather
The weather in Aruba is generally pleasant all year long. Although it is a warm and sunny island, there is typically a cool breeze that creates a comfortable environment. Occasionally, this breeze can be a stronger wind the may blow your hat away.
Another key benefit of the weather Aruba is the absence of any real hurricane or tropical storm season. Although storms are possible, the likelihood of interfering with a vacation is slim. Most storms and hurricanes staying north of Aruba. The months between mid-April through December represent the season where winds can easily be higher.
When to go to Aruba: Travel Season
The best time to go to Aruba is from mid December through mid April. Although the temperatures are similar throughout the year, there tends to be a more gentle tropical breeze during these months. This is considered the high season for Aruba. During these months visitors bask in the sun while being refreshed from the ocean waters and cool tropical breezes. Some might say it is the epitome of relaxation.
When to go to Aruba: Activities and Events
Outdoor activities are available and enjoyable all year long. Swimming, hiking, jeep tours, and just basking in the sun are all readily available.
There are two key events that attract visitors to Aruba. The first is the six week Carnival that occurs during the months of January and February. This is an engaging festival with costumed parades, torch-lit parades, and the Grand Parade. A great time to be in Aruba, but expect higher rates.
Another popular festivity full of singing and dancing is the Soul Beach Music Festival. This annual event occurs over the Memorial day weekend. Another fun event, accompanied by higher room rates.