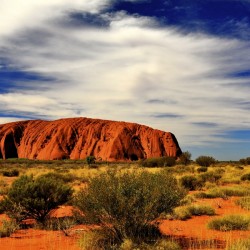 When to go to Australia? The country of Australia is about the same size as the contiguous 48 states in America. In the same way that weather patterns or expectations can be so different across the states, it is fair to expect the same for Australia.
The best time to watch the penguins come on show south of Melbourne could be a completely different time from trekking in the outback. Driving the coast of the 12 Apostles might have a better time than diving the Great Barrier Reef.
When to go to Australia: Weather
The best time to go to Australia is during the months of April through September. During these months much of the country will experience temperatures ranging from 66 degrees to 88 degrees Fahrenheit. Temperatures reach their higher peaks between November and March.
The higher temperatures also bring lots of rain and humidity. This combination makes the Red Centre, the Top End, and most of Western Australia unbearable. The rainy seasons of Mid November through March can easily impede on a trip to the Great Barrier Reef.
The ideal time to visit Australia is September and October. During these months you should expect temperatures that are still warm enough to go to the beach and dive the Great Barrier Reef, while also being more comfortable for exploring Uluru and trekking the outback. The further north you go, the greater chance you will have for hotter temperatures.
When to go to Australia: Holidays
You are recommended to avoid the holiday season for Australia. The additional crowds from locals makes a fabulous destination less enjoyable. This is not a commentary against Aussies, but rather a recognition of crowded attractions. December 26th (referred to as Boxing Day) through the end of January are when the majority of Aussies engage their holiday and vacation travels.
The extra Aussies combined with regular travelers also makes hotel stays more challenging. You may have difficulty booking the hotel you prefer and you should expect to be paying full room rates during this time as well.
When to go to Australia: More Info
When To Go always recommends looking at other resources and sites for information as you plan your trip down under. Australia is an amazing country with so much to offer. You can explore more about Australia and the things to do by visiting the Australian Tourism Board.
You can also explore this site for more specific insights on When to Go to various destinations and attractions within Australia.