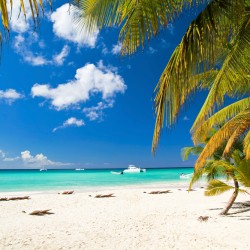 The Bahamas feature over 700 islands waiting for visitors to explore. Expanding over thousands of miles, travelers can start their exploration about 50 miles off the coast of Florida. The people of the Bahamas are warm and friendly and deliver a warm embrace  accompanied by smiles as they greet new visitors. People from America flocked to the Bahamas because of the easy access along with the beautiful beaches, amazing diving, and spectacular resorts.
The Bahamas also offer casinos which is a major attractions for some families who love gambling but have other family members who enjoy the beaches and outdoor activities that the islands have to offer.
When to go to the Bahamas
The winter months in early spring are the best time to visit the Bahamas for several reasons. The Bahamas created an easy opportunity to escape the snow and slush from freezing weather. These months, which include December through April, represent the best time of year with the weather as well.
When to go to the Bahamas: Weather
The Bahamas have approximately 320 sunny days out of the 365 of the year. This means you have a high probability of having beautiful sunny weather during your exploration, relaxation, or just plain enjoyment of the Bahamas. The winter months expect a temperature around 70°F ( 21°C), with the summer months temperatures being around 79°F ( 26°C).
The same winter months are also the country's driest time of the year. This great weather is what brings people to the sporting events, beach parties, and musical entertainment. You will also find the greatest array of shopping, tours, and hotel services  as these vendors take advantage of the weather and the crowds that it delivers.
When to go to the Bahamas: Holidays & Events
The Bahamas is a popular place to go for an easy escape from the cold of winter for the busyness of work. People enjoy the Bahamas all year long, but the months of December through April are the busiest. One of the busiest times of the year occurs during late February through much of March because of spring break. College students flock to the beaches for parties, dancing, signing and an overall celebration of a break from school. For some this is a reason to go, but for others it's a reason to alter your trip to the Bahamas for a different week if you can.
Junkanoo

– A huge festival that features a masquerade party, dance contest, parade and lots of fun. This thousands of people take to the streets creating one of the largest parties or celebrations. This event takes place every year on December 26.
When to go to the Bahamas: More Info
You can learn more about the Bahamas International Film Festival by visiting the website. Whenever someone travels to a new destination is always recommended that you explore other resources to learn more about your pending vacation.  You can learn more from the Bahamas Tourism office.