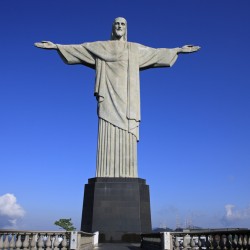 When to go to Christ the Redeemer?  Christ the Redeemer is a famous statue that site atop Corcovado which is a granite monolith overlooking the Rio de Janeiro.   From Christ the Redeemer visitors can look out over the harbor of Rio de Janeiro, which is one of the 7 Natural Wonders of the World. They can also capture images of the famous Sugar Loaf Mountain. This mountain reaches a peak of 1,296 feet (395 m).
When to go to Christ the Redeemer: Best Time of Year
The ideal time to explore Christ the Redeemer is during the months of September and October. Visitors will find that the temperatures and humidity are both lower and easier to handle. These cooler temperatures will make exploring Corcovado and the Christ the Redeemer statue easier.
When to go to Christ the Redeemer: Best Time of Day
The ideal time to explore Christ the Redeemer is later in the afternoon. The sun rises towards the statue which makes a morning visit more challenging because you are looking off into the sun. The later in the afternoon the better as far as sightseeing and visibility.
This is also the best time of day to visit Christ the Redeemer because of photography. The sun will be behind you and off to the side providing light over the harbor and city. This makes pictures of Sugar Loaf, the harbor, and the city of Rio better.
However, all that being said, a morning visit is usually cooler and less crowded. The statue observation areas tend to get more crowded as the day wears on. A morning visit is also the best time to take a picture of the statue. Whereas you are looking at the sun as you peer out over the city and harbor, looking back will provide a view of the statue lit by the sunlight.
Now you have a question of which pictures are more important to you, or you can plan a morning trip and an afternoon trip to get the best images in both cases.
When to go to Christ the Redeemer: More Info
It is always helpful to review more than one source for information when you are planning a major trip. Most people want to make sure the know the ins and outs of what to do and when to do it. Having the best experience is part of our objective. You can visit the Brazilian Tourism Board for more on Rio, the harbor, Corcovado and Christ the Redeemer. Visit the Brazil Tourism Board website directly for additional information.