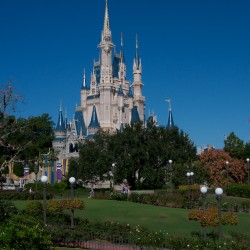 When to Go to Disney World? If you are a kid, any chance you get. Disney World is a magical place that delivers a great time whenever you go. However let's be candid, there are better times to go for a more enjoyable experience.
The high season for Disney World includes the months of June and July and August. These months represent the season where most Americans take their family vacations. With Disney World being the number one tourist attraction in the United States, this means crowds pretty much everywhere you go. This is also when the temperatures are at their hottest. Disney seeks to address this with indoor or shaded lines, fans, and the use of the Fast Past.
The summer months represent the longest lines limiting the number of rides and attractions you will experience. If you have the freedom to avoid the summer months, then you should opt to visit Disney World during another part of the year.
Best time to go to Disney World
After visiting Disney World around 10 times over the years, it is easy to highlight the best time to go. Disney is known for creating magical experiences. However, there is no season more magical at Disney than the Christmas season. Christmas decorations, holiday lights, and a seasonal transformation of the Disney World parks creates one of the most incredible holiday celebrations.
Disney transforms the parks into their holiday wonderland at the beginning of November. Disney's Osborne Family Spectacle of Dancing Lights is truly a magical experience leaving both children and adults mesmerized. There are people who return to Disney just to experience these amazing dancing Christmas lights.
Although you will have a similar experience November through mid December, the best time to go is during the first three weeks of November. The crowds are minimal, rates are lower, and you have a greater chance of better weather.
When to go to and When Not to go to Disney World: Crowds
The best time to go to Disney to avoid the crowds is during the month of November and first couple weeks of December, April through most of May, and the months of January and February. Each of these periods have the least number of visitors with shorter lines. This gives you and your family the best chance of experiencing more rides. (See below for reasons to not go in Jan and Feb).
The worst times to go to Disney World because of crowds is during the months of June, July, and August. Additionally, you should avoid the month of March because of spring breaks in the last two weeks of December because of the Christmas holidays. These are the busiest times at Disney World.
When to go to and When Not to go to Disney World: Weather
When it comes to weather, the good news is that Orlando, Florida has fair weather year round. The most comfortable weather occurs during the months of April, May, and October. Although November is usually comfortable during the day it can easily be too cool at night or for visiting the water parks. However, the cool evening temperatures of November add to the magical Christmas and holiday celebrations.
The summer months can be out right hot. This can make standing in lines uncomfortable, but it sure makes the wet rides and water parks more fun. When it comes to weather, the most vulnerable time to go is during the months of August and September. This is the season when hurricanes and tropical storms or more possible.
When to go to Disney World: Park Hours
Disney World is open year round. The best time to go to Disney World for the park hours is during the summer months and the last two weeks of December for the Christmas holidays. During these periods, Disney extends the hours of Magic Kingdom and Epcot to 10pm, 11pm and even midnight. Now part of this is to compensate for the longer lines, but let's face it – Disney gets even more magical at night.
Disney's parades of light, holiday light decorations, fireworks and more make nighttime a spectacular event in and of itself. Magic Kingdom, EPCOT, and Hollywood Studies all come alive at night. If I could schedule the park hours, I would open at 6:00pm and stay open until 6:00am. As of now, Disney is not consulting with me on park hours.
When to Go and When Not to go to Disney World: More Info
Although January and February have lower rates, decent weather, and shorter lines, this is the part of the year where Disney is most likely to schedule ride maintenance. The park will be open and most rides will be open, but there will be closures of some rides for maintenance.
Gay Pride Week is annual visit to Disney World by the gay and lesbian community.  For some this is a reason to go, whereas for others it may be a reason to avoid the parks.  This event is not sponsored by Disney but nor is there information about it on their site.  One of the key complaints is not knowing.  For those that want to avoid that week, but it is the only time period you can go, there is good news.  The gay and lesbian community is there enjoying the park for the week, but they do have a schedule which highlights which day they will be at which park.  This schedule is accessible through Google search.
When to go and Not to go to Disney World: Rates
Disney has done a tremendous job of evaluating when people come. To help encourage more people to come during off periods, the rates get lower. Disney actually has six different rate seasons. You have to take the recommendations from above and add them to the rate considerations noted below:
Value Season:
January through mid-February and August through most of September. These are when prices are the lowest. But please note the first represents the greatest chance of ride closures for maintenance and the later represents the greatest chances for tropical storms and hurricanes.
Regular Season:
Mid-April through most of May, This is one of the best times to go based on other considerations like weather and crowds.
Summer Season:
June through first part of August. This is the busiest and most crowded time of the year.
Fall Season:
Different weeks in September, October and November.  These weeks in October are great times to go for weather and crowds, however November is better because of the Christmas and holiday celebration additions.
Peak Season:
Several weeks from mid-February through early April. These weeks are usually associated with spring break weeks across the country.
Holiday Season:
The last two weeks of December and various holiday weeks throughout the year. Although the last two weeks of December are crowded, Disney Christmas and holiday celebrations are truly magical.