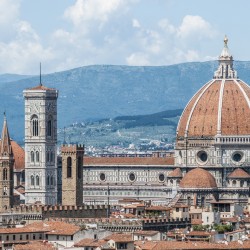 When to go to Florence?  Florence, Italy is one of the best places to experience churches, palaces, museums and other amazing architectural structures. It is a striking city for visitors who like to see the handiwork from men of old.
Florence is the capitol for the Italian Renaissance. Travelers will be able to witness the artistic touch of Michelangelo and Brunelleschi. Museums in the city also house some of the most beautiful and amazing paintings, sculptures and other artworks.
Florence is also the birth place of opera and remains today a targeted destination for theater, music and concerts. Music and art festivals are common reasons to visit this city.
When to go to Florence
The summer months are the high season for Florence when most visitors travel to Florence. The months of May, Jun and September are probably the best months to visit Florence because the weather is comfortable and the crowds are less.
Much of what you will want to experience in Florence is indoors. This makes the summer months of July and August appropriate if your focused efforts will be inside. However, please note that most of Italy shuts down during the month of August. This can be frustrating when it comes to service or access to different things.
Best Time to go to London for the Weather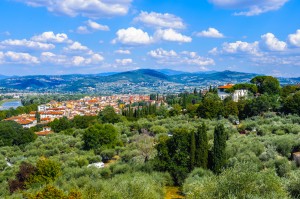 Florence is located in the Tuscan-Emilian Apennines. Generically you can expect colder winters and warmer summers with high humidity during the months of July and August, which are the hottest months.
The lows in December and January will be around 34°F (1.1°C ) with the highs in these months getting to about 50°F (10°C). The most comfortable weather for walking around and exploring the city occurs in the months of May, June, September and October. During these months you can expect highs to range from 74°F (23°C ) to 84°F (29°C ).
The warmest weather occurs during the months of July and August with the highs floating around 88°F (31°C ). These temperatures are really not that high and with a breeze are actually rather pleasant. The problem is that the Arno River runs past the city and the warmer temperatures easily create high humidity.
June is probably the best month to visit Florence with May and September close behind. October really starts to usher in the fall weather and changes in foliage.
When to go to Florence for Leisure and Tourist Activities
You can expect the summer months to be accompanied with a number of tourists. The summer months bring out a variety of concerts, art shows and theater events.
Piazza di Santa Croce occurs mid to late June. This event features costumes and soccer events.
Vendemmia is a wine harvest event that occurs in October with November ushering in the olive harvest. Both of these are interesting cultural events, particularly if you are a food and wine connoisseur.
The Florence Music Festival runs for two months during the summer.
A reminder from a note above. Italy shuts down during the month of August. This can make things closed or more challenging to experience because you can't find the services you need. Another important note is that between the months of October to Easter, many of the attractions have shorter hours. In most cases it is closing earlier, but it could also be a later start in the day. Make sure you check times for things you wish to visit.
More information on when to go to Florence
When To Go always recommends looking at other resources for more information. You can visit the Florence Tourism Board for additional insights on your travels to this Tuscany city.