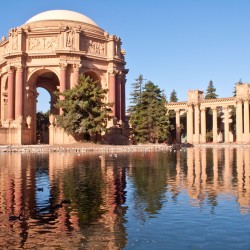 When to go to San Francisco? Although it is smaller than many other major cities in the United States, the city of San Francisco contains a wide variety and sightseeing opportunities that include great architecture, bridges, rolling hills, vibrant art, sparkling city lights, beautiful bay and much more. From just a picture, we could say that San Francisco is almost a perfect city.
The city of San Francisco is also known for good food and great wine. Visitors can also discover fun finds in shopping at the wharf or in other shopping districts. San Francisco also offers a variety of outdoor recreation.
When to go to San Francisco
The peak season for travel to San Francisco is over the summer months of June, July, and August. The room rates for hotels will be higher during this time of year. However, it is during this time of the year that the temperatures are warmer making it easier to get outside and explore all that San Francisco has to offer without getting too hot because of the ocean breezes.
Some people report that the months of September and October are the best because often the temperatures are still comfortable for getting outside, but without all the tourist congestion that occurs during the summer months. It is important to note that the weather for this coastal city can be unpredictable and can even be cold during any month of the year.
Best Time to go to San Francisco for the activities
This spring months of March, April, and May provide a variety of festivals to experience. These festivals can enhance your visit to San Francisco as you enjoy what they have to offer while also getting out to experience more of the city. Spring festivals that might interest you include the following:
Other Minds Festival – Held every March
International Beer Festival – Experienced every April
International Film Festival – Occurring in April and parts of May
Carnaval San Francisco – Found annually every May
Summer Festivities:
North Beach Festival – Annually every June
San Francisco Pride – Also witnessed every June
Fillmore Street Jazz Festival – Incredible music heard every July
San Francisco Theater Festival – This artsy town gives a theater festival every August
San Francisco probably has the greatest concentration of individuals from the LGBT community. The pride Festival could be something that attracts you in support, or could be something the makes you uncomfortable. The important thing is to know that this festival occurs during the month of June so that you can make your plans accordingly.
Fall Festivities:
San Francisco Jazz Festival – Running from September through November
Ghirardelli Square Chocolate Festival – Now this is a sweet festival every September
San Francisco Fringe Festival – Something different during the the month of September
San Francisco LovEvolution – A different kind of festival held every October
Dia de los Muertos – The Spanish festival of fun held every November
The winter months are colder and it is more challenging to get outside. However these months are supposed to be good for whale watching. One of the key benefits for travel to San Francisco during the winter months, is that the rates to hotels are usually lower. Of course the holidays make for exceptions.
When to go to Buenos Aires: More Info
When To Go always recommends looking at other resources for more information. You can visit the San Francisco Tourist Board for more information on your travels to this spectacular city.