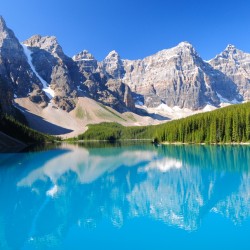 When To Go to Moraine Lake?  Moraine Lake is located in Banff National Park near the town of Lake Louise, Alberta.  The lake is a glacially-fed lake with no other source nor exit.  Moraine Lake will reach its peak in the latter part of June.  The lake site among a series of mountain peaks creating one of the most picturesque scenes.
Moraine Lake and the surrounding area are affectionately referred to as the "Twenty Dollar View."  The reason for this term of endearment comes from the fact that this scene was on the back of the Canadian twenty-dollar bill between the years of 1969 through 1979.
When to go to Moraine Lake: Time of Year
The best time to go to Moraine Lake is from mid-June through the end of July. The melting glaciers and rising levels of the lake tend to crest around the middle of June.  The full lake creates a distinct shade of blue as refraction from the rock floor colors the water.
The lake sits at an elevation of around 6,183 feet (1,885 m). The elevation combined with how far north the national park affects the window for experiencing this amazing scene within nature. The summer months of June, July, and August are the best times to visit Moraine Lake. The temperatures are warmer in the lake levels have crested. This makes the most enjoyable experience of Moraine Lake.
The warmer weather provides visitors with a greater climate for experiencing the lake. You can hike one of the various trails around the lake or rent one of the canoes and get out on the water.
When to go to Moraine Lake: Time of Day
The best time of day to go to Moraine Lake depends on what you want to accomplish. The earlier part of the day is usually less crowded, whereas the latter part of the day is usually warmer and more comfortable for experiencing the area.
If you are a photographer and want to capture one of the most famous images, then the best time of the day to come is early in the morning. The first reason is that turning this time of day it is less likely that someone is on the lake with the canoe. However, the most important reason is that the sun rises from behind the view of Moraine Lake in the mountain peaks surrounding her. This morning light creates a reflection on the mountain peaks on the perfectly still like waters.
The best time of day to come to Moraine Lake for canoeing is going to be in the late morning throughout the afternoon when the temperatures are warmer. If you want to go hiking around the various trails you may want to plan to spend the day there. There are a few 3 to 4-hour hikes and one that is an 8 hour round trip.