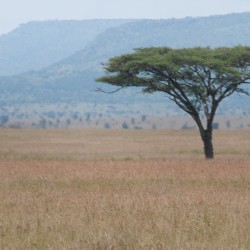 When To Go to the Serengeti?  The Serengeti is a national park located in the northwest part of Tanzania, Africa. The name Serengeti come from Swahili language meaning  "endless plains." This national park is home to the Serengeti migration which is one of the 7 natural wonders of Africa.
The Serengeti is home to 6 of Africa's Big 7, which include the lion, leopard, elephant, hippopotamus, rhinoceros and crocodile. The abundance and variety of wildlife make the Serengeti a nature lover's first destination.
When to go to the Serengeti: Weather
Tanzania, and the Serengeti, are near the equator which keeps temperatures fairly consistent throughout the year. However, during the months of June through August, temperatures can get chilly atop neighboring wonders that include Mount Kilimanjaro and Ngorongoro Crater.
The bigger question has to do with the rains. The Serengeti basically has rainy and dry seasons. The short rains occur during October and November. The long or heavy rains occur during the months of April and May. Either rains can make it difficult to get around, but the heavy rains deter visitors and leads some lodges and campgrounds to close during these two months.
January and February, following the short rains, proved to be comfortable months to visit. The Safari season extends from June through November, however the primary dry season runs from August through September.
When to go to the Serengeti: Wildlife Viewing
Wildlife is available to view in the Serengeti throughout the year. The rains create challenges making the dryer season the better viewing option. The animals tend to be hovering around riverbeds and ponds during the dry season. This creates a more concentrated wildlife viewing opportunity.
The Serengeti showcases two spectacular wildlife experiences. The first occurs during late January through February. This is known as the calving season for the wildebeests. It is an amazing occurrence with almost every calf being born within a 2 to 3 week window. You'll see that new life is also present for zebra, impala, gazelle, and warthogs. Witnessing all these babies fosters an intimate encounter with nature.
The Serengeti's second showcase features the migration. The Serengeti migration, which includes over 1 million wildebeests and thousands of zebra, gazelle, and impalas, is one of the 7 natural wonders of Africa. What most people don't realize is that the migration is an all-year endeavor; the herd is always moving.
The majority of the migration occurs within the Serengeti National Park. However one of the highlights is watching the migration herd crossing the Mara River into Kenya and the Masai Mara. During this crossing the wildebeest are fighting the waters and more importantly the crocodile.
Ballooning over the Serengeti to experience the migration from above is possible in February and March but a more productive time to experience the herd would occur in the summer months of June July and August.