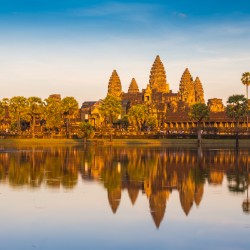 When to go to Angkor Wat? Known as the top tourist attraction to see when visiting the country of Cambodia, Angkor Wat is a magnificent temple filled with rich history and culture. Located in the fun and vibrant city of Siem Reap, you will be surrounded by visitors looking to have a good time and also planning that perfect day that allows them to take in all that Angkor Wat has to offer.
When to go to Angkor Wat based on Weather
Cambodia is a country of two main seasons: dry and wet. The dry season is between the months of October to early May where temperatures range from 80-104 degrees F. Extremely hot winds blow in from the north and can sometimes feel like a hair dryer is being put right in your face without a way to turn it off.
It is advised that you are overly prepared for this hot weather condition if you are not already used to such conditions or come from a much cooler climate. It's also good to know that many places in Siem Reap don't offer air conditioning depending on where you sleep and dine so be aware of this before making your trip to Siem Reap to see Angkor Wat.
The wet season months begin at the end of May and last through until October with temperatures ranging from 70-90 degrees F. Although these months offer a much cooler climate that is more manageable to bear, this time brings heavy rains and monsoons. Nearly 75% of the yearly rainfall will happen during this time of the year.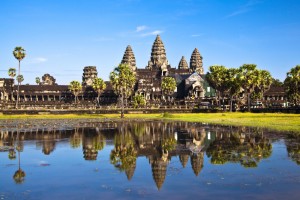 With heavy rains comes many floods but fortunately, if you are    staying near to Angkor Wat, this will not affect your travels to the temple as far as road damage goes. The tuk-tuk (taxi) drivers know the roads to the temple very well and they work whether rain or shine so you have no need to worry about willing and able workers to take you to see this wondrous structure. Just make sure you are prepared with an umbrella or rain poncho if you don't want to get completely drenched in the middle of a monsoon.
When to go to Angkor Wat based on Crowds
The peak season for visitors of Angkor Wat is during the dry season. The busiest time of peak season usually occurs right after Christmas and holiday time and at the beginning of summer when people tend to take their vacation times. It's practically guaranteed that during this entire time massive crowds pouring into the temple will surround you.
Angkor Wat, being extremely big and wide spread (the ruins stretch over more than 248 sq. miles) does help with the crowds but you still want to be prepared to be standing side by side with a stranger most of the time.
Best Time of Day to Visit Angkor Wat
The busiest time of the day varies but it has been said that sunrise is when the temple looks the most magnificent. If you are lucky enough to arrive at Angkor Wat during the wet season when it isn't raining you are able to see the temple at sunrise the clearest of any other time of the year.
Dry season brings in the winds which make it much more hazy and dusty so chances are the sunrise will still be a great time to see it but just not as clear. Many of the most beautiful pictures taken at Angkor Wat were taken during the sunrise.
There is a reason that Angkor Wat is the primary purpose that more than 50% of international tourists visit Cambodia. Although it has been there since the early 12th century, the temple itself became increasingly popular after the well-known film, Tomb Raider starring Angelina Jolie was filmed there in 2001. For many people, that is a big reason to see the place and to feel like they already somewhat know a little bit about it. No matter why you visit or what time of the year you decide to go, Angkor Wat is a sight that you are sure to not soon forget.