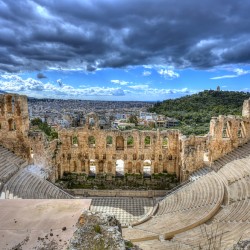 When to go to Athens? Visitors can be found year-round in Greece's capital touring the ancient ruins and exploring the rich history that nearly everyone has heard but few get to experience first-hand. From gazing up at the gigantic Acropolis to attending one of the many open-air film showings welcome to the public, Athens continues to prove why it is one of the most visited cities in Greece.
Greece sits atop the bucket lists of many people with Athens being the destination city.  History, culture, dining, and mythology draw people to this amazing city that is rich in it all.
When to go to Athens based on Weather
With its location being in the Mediterranean, Athens experiences warm weather at any given month, which makes visiting enjoyable throughout the entire year. With this in mind, however, there are times where it can become extremely hot in the summer with temperatures rising to at least 90 degrees F from June to September. The winter months of December through February sees a temperature drop in the high 50's and low 60's as well as the highest season of rain.
Best times to go to Athens based on Crowds and Accommodations
Spring and autumn are by far the best time to head to Athens. The weather in both seasons is moderate and very bearable with temperatures usually in the mid to high 70's Fahrenheit. Another reason to visit during these times is that there is much less of a crowd, which ultimately means that prices in accommodation drop dramatically.
The only thing to be aware of is that the spring months from March through May see heavy winds. To be prepared for this, simply pack one or two extra light jackets that will lesson the bite of the winds. In October to November during the autumn season, means that nightclubs and bars that were shut down during the summer are now re-open and ready to show you a good night out on the town.
When to go to Athens based on Events and Festivals
If you are able to endure the summer heat and crowds, then you are most likely going to be able to participate in a fun and lively Athens festival or event. Besides summer being the most popular time for festivals, the other seasons see a couple each year as well. Here are a few good ones to check out:
Athens International Dance Festival: Every year in July, Athens hosts some of the most recognized and renowned dance companies from across Europe, America and of course Greece itself. Lasting 15 days, the festival involves new and creative dance routines for everyone to enjoy. Being a somewhat new festival, each year they find a way to make it bigger and better than the one before. It is definitely a must-see if you are in Athens during the beginning of July.
Rockwave Festival: One of the biggest festivals worldwide and entering into its 20th anniversary, Rockwave is sure to satisfy the biggest pop-rock fans and music-lovers alike. With huge names performing every year, the festival is never a disappointment and always a gigantic success. Just be sure that if you attend, you have plenty of water to keep you hydrated throughout the three days of festivities.
Apokries (Greek Carnival) This festival falls during the end of January to mid February with a much cooler climate than the summer festivals. The three weeks are full of celebrations in the streets, house parties and masquerades that are perfect for any age whether young or old. The best way to describe this long festival is a non-stop party and time to celebrate right before the restrictions of Lent begin.
With so much to see and do including all of the fun festivals, your trip to Athens is guaranteed to be exciting, memorable and definitely wanting you to come back for more!