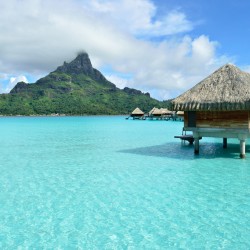 When to go to Bora Bora? A 6-mile long French Polynesian island containing two massive volcanic peaks, a serene lagoon and coral reef teeming with marine wildlife and of course a long list of happy travelers who have made Bora Bora their go-to vacation destination.
Located just over 140 miles (230 kilometers) northwest of Tahiti makes this island a very tropical place perfect for both beach lovers and outdoor enthusiasts alike.  Bora Bora is easily one of the best destinations for newly weds who truly want a special location for their honeymoon.
When to go to Bora Bora based on the Weather
Bora Bora has officially been said to have just two main seasons: summer and winter. Because it is located south of the equator, be sure to take into account that it most likely has the opposite season times of your home country.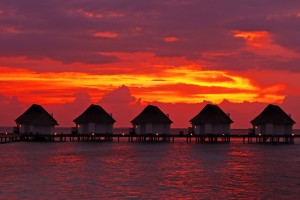 Summer: The summer months are December through March and are known as the wettest months of the year. Because of the rainfall, the humidity can become rather intense and sometimes uncomfortable if you are not used to that type of climate. Storms also occur quite frequently, which make the yearly rainfall amount sometimes up to 71 inches. Temperatures during the summer range from 70-85 degrees F (21-29 C).
Winter: From beginning of April to end of November are considered the winter months and also the driest time of the year. Rainfall and storms are very rare during the winter and humidity is much more bearable for visitors. The average temperatures are usually 70-82 degrees F (21-27 C).
Whether you decide to visit Bora Bora during the summer or the winter, be sure to pack accordingly with plenty of sunscreen and appropriate clothing.
When to go to Bora Bora based on Crowds and Prices
High Season: Because of the much more comfortable weather in the winter months of April-November, this is when tourism is at its peak in Bora Bora. The island itself is known as an extremely expensive tourist destination and if you want to guarantee both activities and accommodation options to be at their all-time highest, then high season is undoubtedly the time. The luxury hotels that are already quite expensive bump up their prices during these months. Crowds will also be much bigger and privacy at the lagoon and beaches will not be much of an option.
Low Season: Summer is considered low season mostly because of the weather and storms that come along with it. The rainfall turns people off to wanting to visit during this time but luckily if you do plan on visiting Bora Bora during the winter, you will find a drop in prices for both accommodation and activities. Also, the crowds won't be as bad compared to the summer months.
When to go to Bora Bora for the activities
Bora Bora, though small in its size and nature, has plenty of water activities readily available to any and all visitors. With such pristine turquoise waters filled with over 500 different marine species, Bora Bora is truly a paradise for ocean lovers.
Snorkeling: During the day head out to practically any beach and within seconds you will find yourself surrounded by teem of colorful tropical fish. The best time to go during the day are simply whenever is simply whenever the sun is out and shining accompanied by no rain.
Scuba Diving: The winter months give you the best chances of the clearest water. There are plenty of scuba diving classes and courses to sign up for on the island where they can tell you when the best times to head out to sea are.
Deep Sea Fishing: Because Bora Bora is home to over 500 species of marine life makes it one of the most unique and unforgettable places to head out to do some deep sea fishing. If you want to start off with cooler temperatures head out in the early morning and be back before the afternoon. However, if you'd like to see the famous Bora Bora sunsets from your fishing boat, head out to sea in the afternoon and witness an incredible contrast of colors just before ending your fishing trip. The winter months usually offer the best temperatures and with almost no chance of rainfall or storms.