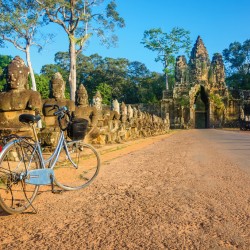 When to go to Cambodia? This unique country, easily accessible by train or short plane ride from Thailand or Vietnam is a kingdom known widely for it's glorious temples. With thousands spread throughout the country, they have become the main attraction when visiting Cambodia. Angor Wat is probably the most spectacular, but there are many amazing religious and historical cultural places to visit.
In addition to the array of temples and iconic religious attractions, visitors are also able to enjoy yoga retreats, historical sights, Khmer cooking classes and beautiful untouched islands just off the coast.  Cambodia is an excellent destination for those interested in unique cultural experiences.
When to go to Cambodia based on the Weather
Because of where Cambodia falls on the equator, the country has only two distinct seasons, which make up their tropical Asian climate. Though the weather varies from month to month, visitors can be found traveling to the country year-round. Like much of Southeast Asia, Cambodia's two main seasons are dry season and wet season.
The dry season is from October to early May with temperatures ranging from 80-104 degrees F. The hot winds begin to blow in, making temperatures rise with very little rainfall. If you find yourself in Cambodia during these dry months, be prepared for extremely high temperatures.
During the wet season in the remaining months of late May to October, the country sees almost 75% of the yearly rainfall. Temperatures range from 70-90 degrees F. During this time, it is important to take into account all the difficulties that may occur when traveling during the wet season. This time brings upon many floods due to the rainfall, which causes bridges and roads to sometimes completely shut down for days.
The peak season for visitors tends to be during the dry season months and when visiting during these times, you will be sure to run into many huge crowds and temples filled with tourists. The roads are also better during this dry season so people can be found heading down south to the coast to bask in the sunshine and lay on the beaches. Although the wet season has its challenges when it comes to traveling, it also has a few positive perks; the lush greenery is in full bloom and you are much less likely to see such huge crowds.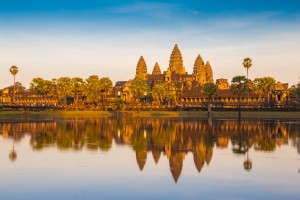 When to go to Cambodia based on Tourist Attractions
Angkor Wat: Although this temple has been known for years as one of the most beautiful temples in Southeast Asia, it became increasingly more popular after the Hollywood film, Tomb Raider starring Angelina Jolie was filmed there in 2001. Ever since that, crowds have been pouring into the town of Siem Reap where the temple is located. Some say that the best time to see Angkor Wat is during the wet season where the crowds are much lower and the dust that occurs during dry season is virtually non-existent.
Whether you are an early riser or not, it's strongly advised to get to the temple at sunrise. You'll be standing next to hundreds of people all waiting for that perfect moment to snap a glorious picture of the sun rising just over the temple. For those very reasons, Angkor Wat has become the most visited tourist attraction throughout Cambodia.
Sihanoukville: Although most people come to Cambodia for the temples, depending on your preferences of course, it would be best to not limit yourself to those attractions and expand your adventures in Cambodia while you are there. The country is becoming more popular in terms of beaches where you can find a much less crowded scene as compared to other Southeast Asian countries like Thailand and Indonesia. If you are okay with crowds, the best time to go is during the dry season where you can enjoy the hot sunshine and very little rainfall. Just be aware that during this time prices in accommodation will most likely rise.
Khmer cooking classes: The best time to take a cooking class is really anytime of the year because it will always be located inside. This means it's perfect for those rainy days during the wet season where you're unable to see temples or visit the southern beaches. Khmer food, very similar to Thai food, has become a well-loved cuisine. Another good thing about the cooking classes is the prices won't fluctuate even in peak season.
For more information on When to go to Cambodia:
For those of you who are interested in learning more about Cambodia, please visit Tourism of Cambodia located here: http://www.tourismcambodia.com.