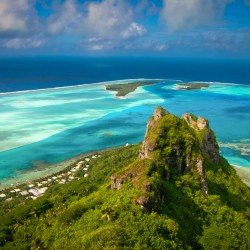 When to go to French Polynesia? Composed of 118 scattered islands located in the French Republic of Tahiti and commonly referred to as an "overseas country". Separated into five different island groups, French Polynesia has everything a tropical holiday should include such as pristine beaches, beautiful waterfalls and a plethora of museums, shopping malls and some fantastic festivals for all to enjoy and take part in.
When to go to French Polynesia based on Weather
Throughout the entire year, French Polynesia has a very warm and tropical climate where visitors can be found on any given time. However, some of the months do offer better weather than the others.
November-April: Because of its location falling on the southern hemisphere, these are considered as the summer months. This is also known as the tropical rain season. Although temperatures are at their highest during this time, around 86 degrees F (30 C) there will be days of rainfall in between the intense sunny days. Because of the rain it also makes for a very high humidity level reaching sometimes to about 82%.
May-October: This is the austral winter and is much drier than that of the summer season. Average day temperatures are at around 82 degrees F (28 C) while at night and early mornings drop to about 68 degrees F (20 C). Strong winds are also known to blow in from the southeast so make sure to pack proper windbreakers or jackets to keep from getting too chilly.
When to go to French Polynesia based on Crowds
Peak Season: The two months of July and August see the most tourists and crowds. Prices in hotels and accommodation are at their highest and it is advised that you book your plane tickets and hotel tickets as son as you can. August also is a time where many residents of French Polynesia leave the island in hopes to get away from the crowds so be sure to take into account that some shops and stores may in fact be closed during this time even with all of the high tourism.
Low season: For a much better chance of getting discounted prices in accommodation, then plan to visit French Polynesia in the low season during the months of either April-June or September-November where the crowds are at their lowest and prices tend to drop dramatically. Plane tickets are also usually easier to come by and at a much more reasonable price than that of the high season.
When to go to French Polynesia based on Events and Festivals
Festivals and various events often bring more visitors who want to experience the local culture or participate in the excitement.  Below is some of the events and festivals that draw people to French Polynesia.  For some these are reasons to come and for others who want to experience smaller crowds or less congestion in the area these are reasons to look at alternative dates.
Heiva Nui: Taking place in July, this is by far the biggest festival throughout French Polynesia. Lasting an entire month that is filled with constant parades, reenactments of ancient Polynesian ceremonies, dancing contests and plenty of delicious foods throughout. It's extremely difficult to get a plane ticket or hotel reservation during this time so if you would like to experience this first hand then make sure to book everything very well in advance.
Mini Fetes: Right after the festivities of Heiva Nui are over, the winners of the dancing contests spend all of August going around to various hotels on different islands and performing for guests. It is quite the show to see and witness.
Tatoonesia: If you are hoping to take away something permanently memorable from your trip to French Polynesia, allow the many local and foreign tattoo artists that gather in Papeete to assist you in doing so. Early November is filled with people getting tattoos by these professional artists and lasts for a week until late November where there is an Exhibition lasting another week.
Chinese New Year: Celebrated usually between mid-January and mid-February, this time is filed with parades, musical performances, selling of Chinese goods and handicrafts as well as numerous demonstrations of martial arts.
Tahiti-Moorea Marathon: An invitation welcoming some of the world's best runners to run 26 miles around Moorea on the second Saturday of February. The prizes reach up to US$15,000 (7,500 Euros).