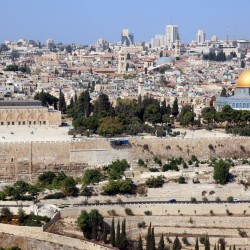 When to go to Israel? Every year almost two million people visit Israel for a numerous reasons. Whether it's for business, to celebrate one of their many holidays, scuba diving in the Red Sea or to walk in the footsteps of Jesus, the country has unique and memorable activities for everyone. No matter what time of the year you decide to go, your trip is sure to be unforgettable.
The good news is that Israel is accessible year round, however there are times that are better to go for various reasons.  The weather is probably one of the most important factors on helping insure that you have an enjoyable vacation experience when traveling to Israel.
When to go to Israel based on weather
Israel has only two main seasons that make up their climate throughout the year, which are winter and summer. The winter months are between late October to mid March where temperatures can vary from year to year with occasional rain showers. However, they usually fall between 50-60 degrees F during the day while at night it drops to 40 degrees F.
The summer months of April to October sees hot temperatures of 80 degrees and sometimes can reach up to 110 degrees. There are also very hot, dry desert winds during the beginning and end of the summer to take into account while planning your trip.
The summer months are hot and very humid in areas like Tel Aviv and Tiberias, whereas Jerusalem is particularly dryer and cooler. The hottest parts of the country are Massada and Eilat, which are extremely dry with absolutely not rainfall.
If you are planning to the Mediterranean during your stay, make sure to go in the summer. Unless there is a heat wave in the winter months, you won't be able to swim. If you do experience a heat wave during your stay, make sure to stay hydrated and find air conditioned buildings as the heat can be very draining and disabling of plans you may have outside.
The best time to visit Israel
Although visitors can be found in Israel during all months of the year, summer tends to be the peak season for tourists. During this time you should plan on higher prices in accommodation as well as larger crowds in all of the very touristy areas.
During the summer you have the broadest range of activities that you can engage without fear of the weather.   Although it is warmer, the lesser humidity makes your visit more bearable.  It also increases the probabilities of a better experience for those wishing to engage the waters.
When to go to Israel based on holidays
Israel is easily the top country when it comes to having the most holidays throughout the year. Chances are when you go to Israel, there will be at least one or two holidays you have the opportunity to participate in.
Although previously stated that summer is the peak season, holidays tend to add to the high prices of accommodation. They may even rise up to 20 percent during a holiday and last for days after it's complete. Because holidays are such a huge deal for the country, you may experience many shops, restaurants and services to be completely shut down during the time that the holiday occurs. Though more expensive and crowded, experiencing a holiday in Israel may surely be the highlight of your trip.
Purim (Feast of Lots)
This holiday is in remembrance of how Queen Esther had saved her people in Persia. Occurring in the month of March, you will find many people, especially children, dressed up in fancy costumes, spraying shaving cream and parading in the streets. This is a fun time to witness the excitement and liveliness of the locals.
Passover
Passover takes place in April and commemorates the ancient Israelites' Exodus from Egypt. Lasting seven days, the first night begins with a family meal and ritual recalling the Exodus and is known as Seder. If you are in Israel during this holiday, many hotels and restaurants have created special Seder's that tourists can participate in. However, you should take into account that besides these places that offer that, most restaurants and shops will be closed down for the entire seven days. Being one of the biggest holidays of the year, rates are at the absolute highest and it's advised to book your trip well ahead of time if coming during the Passover.
Yom Kippur (Day of Atonement)
Occurring on the tenth day of the Jewish year, this holiday is known as the most somber of the entire year. Although every synagogue in the country is packed during this day, the larger ones have made certain to reserve seats for tourists and some hotels even arrange their own services for guests. This day is a day of fasting but again, hotels still provide food for guests that wish to eat.
More information on when to go to Israel
If you are interested in learning more about Israel, the best time to go, and what are the best activities, you are encouraged to visit the Israel Tourism Board at the following address:http://www.goisrael.com/Tourism_Eng/Pages/home.aspx