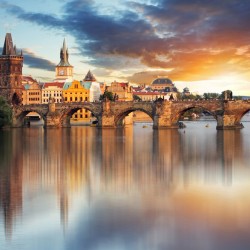 When to go to Prague? Many consider Prague as one of their favorite places to visit in all of Europe. Walking around by foot or even taking a guided tour you can find beautiful churches and cathedrals, the famous Charles Bridge and of course some unique and tasty beers after a long day of sightseeing.
Prague is a must-see when it comes to top European countries to visit and its no surprise as to why.  The spring time is a favorite for many visitors, but rat assured Prague is a destination year round.  Read on and discover when the crowds visit Prague.
When to go to Prague based on Weather
The city of Prague is one of those places where weather is rather hard to predict. They have four seasons but all can be vary depending on the year, month or even day! Although you never really know what you are going to get, there are certain times of the year that you are most likely to see these following weather patterns…
Winter: This rather cold, rainy and sometimes snowy season can last sometimes from December all the way until early May. Make sure you pack an umbrella and a couple warm jackets if you plan on visiting during these months.
Spring: This is often referred to as having the best weather throughout the year. Not only will you see temperatures most likely in the 70's but you will also be able to see trees and flowers in full bloom! If you are traveling this time of the year you are in for a real treat as it is perfect walking weather and the best time to capture some amazing pictures.
Summer: June through August you will find very random weather, meaning that some days will be very hot (in the 80's and above) while others it will be raining for days on end. Plan for all types of weather during these months and pack accordingly.
Fall: Considered the second best time of the year to visit based on weather with temperatures similar to that of the spring season. The early months of September and October are your best chances to get the most pleasant weather. Although rain is always possible, it won't be as unpredictable as in the summer.
The best time to go to Prague
The best time to go to Prague is during the month of May or early June.  This gives you the most comfortable weather even though it comes with the crowds.  Visitors are also blessed with flowers and blossoms adding to the amazing architectural city.
When t go to Prague based on Crowds
Peak season: Although this beautiful city attracts visitors all year round, there are certain times that bring in the highest number of crowds. As mentioned above, the great weather of both spring and fall (May, September and October) draws in the most people. This means that there will be several guided tour companies sometimes booked well in advanced, crowds in almost every church and cathedral and least pleasant of all, the accommodation prices are at their peak. If you would rather endure crowds with some great weather and don't mind spending a little extra, then this is the best time for you to visit Prague.
In-Between season: During the mid-summer months of July and early August you will also see a good amount of visitors but not as much as in the peak season months. A positive to these two months are that accommodation prices come down nearly 20% at most places.
Avoid: Christmas, New Years and Easter as you will find loads and loads of tour groups arriving from Germany and Italy and ready to take over the streets of Prague. Although the city can be beautifully lit with Christmas lights and fireworks during the holidays and New Year celebrations, the crowds may be too overwhelming for some people.
When to go to Prague based on Festivals
The Prague Spring Music Festival: Taking place in late May and early June and lasting three full weeks, this is a fun and lively event to be a part of. With a variety of opera, symphony and chamber performances you will be sure to have a great time.
The Prague Writers Festival: Happening in June, you will find a handful of contemporary writers from all over Europe as well as the States come together and take part in readings, lectures and book-signings. Be sure to keep an eye out for some big names during this time and take advantage of getting a book or two signed by some of them.