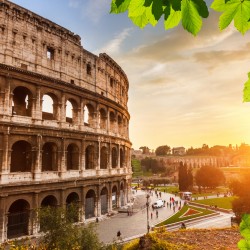 When to go to Rome? With ancient monuments and historical buildings filling the city known as "The Eternal City", it's no wonder why it will always serve as a constant reminder why Rome was one of the greatest centers of Western civilization.
From beaches, cafes offering delicious Italian cuisine to museums and incredible ruins of the famous Colosseum, the city of Rome has something to offer every visitor.  Rome is also an excellent city to base your Italy travels or as one of your Mediterranean cruise's ports of call.
When to go to Rome based on Weather and Crowds
Rome, being one of the most popular cities to visit in Europe, visitors can be found there on any given day or month of the year. However, there are is some certain weather that people prefer to be accompanied by while walking the beautiful cobblestone streets of the city. Here is a breakdown based on the four seasons:
Winter: Being by far the coldest time of the year in the months of December through the end of February you will find temperatures ranging anywhere from the mid 30's to low 50's Fahrenheit. With that being said, this is the probably the best time to go because the city seems to be significantly less crowded along with room rates decreasing sometimes to half the price in high season. As long as you are bundled up with the appropriate clothes, expect very few lines for any attractions.
Spring: With much warmer temperatures from April to May sometimes up to the mid 70's it is a lot more bearable compared to the winter months. Crowds do tend to increase more here so don't expect the best hotel deals but it won't be any sort of problem when it comes to at least finding a room.
Summer: Rome can get very hot and humid in the summer from June to August. This is peak season and it requires usually up to six months in advance when booking a room. Temperatures will be in the upper 80's so make sure to pack wisely in accordance to this.
Fall: The crowds begin to become fewer and fewer and temperatures start to decrease to a more comfortable temperature like that of spring season. You will find smaller lines at attractions and possibly a decrease in room prices.
When to go to Rome based on Festivals and Events
Holy Week & Easter Sunday: The week leading up to Easter Sunday you will find processions and age-old ceremonies being held for Holy Week. Four days before Easter is when the most notable procession takes place; the pope passes the Colosseum and the Roman Forum making his way up to Palatine Hill where a torch-lit parade brings an end to the observance.
Keep in mind that this is a busy week for the city and groups from neighboring countries will most likely come to celebrate as well so make sure you have your trip and accommodation planned out well in advance.
Festa di Noantri, Trastevere: Taking place in July, you are able to see one of Rome's most colorful neighborhoods transform into one humongous outdoor restaurant. You can find tables lining the streets and musicians entertaining all guests coming to enjoy the delicious cuisines. It may be a bear to find an empty table but once you do make sure to grab it right away and try your hardest to find a waiter as it will be extremely busy.
The White Night of Rome: Usually taking place in the beginning of September (make sure to check current dates and schedules) you can find an all day and all night celebration that is sure to make your trip exciting and memorable.