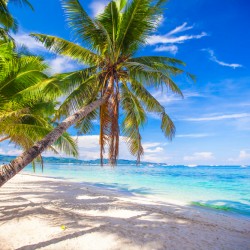 When to go to the Philippines? The country boasts more than 7,000 beautiful islands, making it a beach bums paradise.  Many people travel to the Philippines just for the abundance of beautiful beaches and ocean activities. The country features world famous diving destinations and surf spots that attract those who want to lounge around and relax to the more adventures looking to surf, snorkel or scuba dive.
The Philippines also has a rich history full of culture and centuries-old architecture, which can be experienced year round.  The Philippines is a destination that provides something for everyone.  Not only that, the people are known to be some of the friendliest and most welcoming throughout Asia.
When to go to the Philippines based on weather
Temperatures throughout the year range from 78 to 90 degrees F (25-32 C) with around 77 percent humidity. Like many parts of Southeast Asia, The Philippines has a tropical climate where monsoons are sure to take place mostly in the western parts during the months of July through September.
If you happen to be visiting during that time, simply head toward the east for a much less wet climate. Other months of the year will be mostly dry with clear skies, offering a downpour of only sunshine perfect for your island adventures.

When to go to the Philippines for Tourist Activities
When the weather permits, which is most months of the year, there are endless activities for visitors to dive into. Chances are if you are at a beach, there are companies just steps away ready to rent you a kayak for the entire day. Imagine gliding through gorgeous blue waters, clear enough to see the tropical fish swimming just below you.
For those looking for something a bit more adventurous, you should know that The Philippines is known as the unofficial zip line capital of the world. Other good thrills include rock climbing, scuba diving, rafting and wakeboarding and trekking.
–Scuba Diving: What makes scuba diving in The Philippines so attractive to visitors is the low cost of getting certified and the beautiful waters you will be submerged in beginning with your very first dive. Whether you are already certified or an experienced diver, you can't go wrong in continuing your diving adventures throughout the islands of The Philippines.
–Surfing: The islands host a large number of surfing events throughout the year that would attract many tourists. If you would like to give surfing a try of your own, the best swells with easy access can be found in the south. If you are just beginning surfing, there are smaller waves to provide the perfect first time of getting up on your board; a sure highlight of your trip you won't soon forget.
For more information on when to go to the Philippines
For even further information before you head to The Philippines, be sure to check out http://www.philippines.hvu.nl/