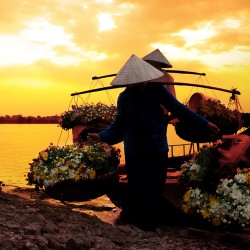 From amazing viewpoints of natural landscape and beaches to generosity and hospitality of the locals, it's no wonder why Vietnam is becoming an increasingly popular tourist destination in Southeast Asia. Although the weather in certain areas can become extreme, visitors can still be found all throughout the year.
Vietnam is a colorful nation full of wonderful people and an array of cultural attractions that engage visitors to this amazing country.  The best time to go to Vietnam depends on a variety of factors.  Please read on below and gather insights to help you decide when to go.
When to go to Vietnam based on Weather
Because of the structure and location of the country, each region differs in climate meaning that no matter what time of the year you visit, chances are that somewhere in Vietnam is going to have great weather. It can basically be broken down into three different distinct geographical and climatic zones: north, south and central.
The North
This region tends to be quite a bit cooler than the rest of the country that can drop to as low as 50-60 degrees F depending on the month. The winter months are from November until January where the mountains see the coolest temperatures. If you find yourself in Vietnam during these months be sure to pack jackets and appropriate clothing, especially in far north areas of Sapa or Dien Bien Phu along the China/Laos border.
The only place that sees freezing temperatures and sometimes snowfall is Fansipan, which is the highest point in Vietnam. The rainy season is during May to October and chances are while visiting Hanoi, the capital, you will experience a very humid climate. Warmer temperatures start to pick up in April and last through late September. The best time to visit the north is anywhere between these two months.
The South
Ho Chi Minh City is the most popular destination in the south where temperatures are anywhere between 70 to 90 degrees F. The rains begin in May and last until November but keep in mind that these are minor and only usually occur in the afternoons not lasting very long. However, monsoons are known in this area, which may cause road blockage and limited transport if they do occur during your stay in these months.
Dry season in the south is from December to late April where the climate is extremely hot, which you should plan for accordingly. Because of the warm and tropical weather that is always present in the south, people can be found visiting this region at any time of the year.
Central Region
The monsoon and rainfall pattern actually reverses because of the northeast monsoon. This means that the wet season in the central region can last between September and February depending on which city you are in. After that, comes spring season from February to March where temperatures are hot but still very bearable (mid 70's degrees F).
This time of the year is the prime time to visit central Vietnam. The hotter months from June to August see temperatures up to 90 degrees F. Typhoons have been known to hit the central coast from August to November so be aware of that before embarking on your visit.
When to go to Vietnam based on Holidays
Tet Holiday:  In both January and February is when the Vietnamese celebrate Christmas and New Year as one huge celebration. Being the most looked forward to time of the year, it is advised that travel during this time can be rather a headache than enjoying the festivities. Transportation is completely booked along with every type of accommodation. If you do not want to be stranded in Vietnam, don't visit unless you can stay with a Vietnamese family.
Mid-Autumn Festival: This is a fun and lively festival usually towards the end of September every year depending on the lunar calendar that the Vietnamese follow. With dances, parades and lots of special sweet cakes to be eaten, it's great to partake in, especially if you are traveling with your kids during this time of the year.