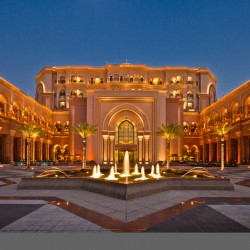 When to go to Abu Dhabi?  Museums, palaces, architecture, islands and the famous Ferrari World TP are all reasons to visit Abu Dhabi. This is an amazing city rich in Middle Eastern culture. Every visitor will walk away with an incredible journey in both history and modernism.
When to go to Abu Dhabi
What is the best time to visit Abu Dhabi? The best time to visit Abu Dhabi depends on why you want to go. If you know you are going to be indoors then the summer months may not be to bad. However if you know you are going to be outdoors, plan on hot temperatures that are over 100°F (40°C).
Most people prefer to travel to Abu Dhabi during the months between October and March. The temperatures are much more comfortable for getting outside and exploring all that Abu Dhabi has to offer. Kayaking, enjoying the beaches, or experiencing the wildlife reserves are more enjoyable during these months as well.
Best Time to go to Abu Dhabi based on the Weather
There are a number of weather factors you can expect when traveling to Abu Dhabi. First, it is safe to not expect any rain. It rarely rains and when it does, it is not much. The other thing you can expect is to not be cold. Even the winter months would be considered warm in most areas of the world.
The hottest time of the year is during the months of July and August where you can expect temperatures to exceed 100°F (40°C) regularly. June and September are not far behind temperature wise. This means that if you plan to get outside and engage all that the city brings with its culture, architecture, nature and life, you can expect it to be hot.
November through March are the cooler months making it much easier to get outside. The average high temperatures range from around 75°F to 94°F (9°C to 30°C) during these months. During the same period the average low only gets down to 56°F (13°C) and ranges up to around 71°F (22°C). At worst, you might like a light jacket in the evenings.
The best months for enjoying the beaches are October, March and April. These are not the hottest months nor the coolest, providing nice warm weather for getting in the water. These are probably the best months weather wise for getting out and taking in the sights of Abu Dhabi as well.
When to go to Abu Dhabi for Leisure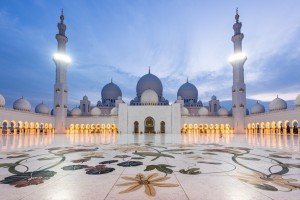 The months from October through April are the best months to be outdoors. To really experience Abu Dhabi and what the city has to offer, you really need to plan on being outdoors and walking about. As noted above, this is also the best time for kayaking, snorkeling around the islands, or enjoying the wildlife reserve with over 10,000 animals to experience.
When to go to Abu Dhabi: More Info
When To Go always recommends looking at other resources for more information. You can visit the  for additional insights on your travels to this incredible city.