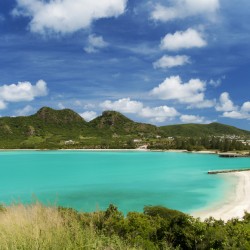 When to go to Antigua? Antigua, located in the heart of the Leeward Islands in the Eastern Caribbean, is a dynamic island moved the music of steel and drums. Travelers could visit a different beach every day and not go to the same one for a whole year. This is one of the reasons why many vacationers flock to the sun soaked island.
Antigua also provides visitors with the varying terrain that creates a great opportunity for hiking or enjoying other outdoor activities. Jeep Tours,  jet skis, zip lines, sailing, snorkeling, and diving are just some of the many activities that help make Antigua enjoyable. In order to know the best time to go to Antigua, you need to be aware of the weather, holiday and events so that you can plan accordingly.
When to go to Antigua
Antigua is a tropical island which means that it is fairly accessible year-round. The best weather, which also means the high season, occurs between the months of December through April. The best months are probably January or April. Traveling to Antigua between the months of June through November will provide you with less crowds and usually reduced rates on accommodations.
When to go to Antigua: Weather
Antigua has a moderate and dry climate so there's really no such thing as a bad time to visit –  everyone will have a great time in Antigua regardless of the time of year. Temperature wise, there is only a slight difference throughout the year with the average temperature ranging between 77°F to 80°F (25°C to 28°C). With the ocean breeze and these great temperatures, you can expect to feel comfortable in Antigua all year.
The winter months of December through March can get a little cooler in the evening hours, but this is still the ideal time to come. The months of June through November are considered hurricane season. Although the likelihood of actually experiencing a hurricane is doubtful, there is a greater chance they might find a tropical storm visiting during your vacation. The benefit of this timeframe is a reduced rate with the accommodations.
When to go to Antigua: Holidays and Events
If you have the flexibility of when to go, that can help if you want to be there a specific time or shift a little to avoid certain activities. Some people prefer the crowns and parties during festivals or other events that draw people to the island. For others this can be a discouragement because they were looking to relax and enjoy a peaceful escape.
Late February through much of March visitors may discover an onslaught of teens and young adults because of spring break vacations from school. This can be a welcome enhancement for the partygoer or a detraction to the tranquil paradise. The good news is that Antigua offer so much, you should still be able to find a peaceful escape.
Sailing Week

–   A world class competition that attracts visitors from around the world to the sailing competition. This week of competing occurs during the last week of April for the 1st part of May.
Classic Yacht regatta

–  A five-day event that also draws visitors from around the world to showcase their sailing vessels.
Antguan Jazz Festival

 –   This festival in October is a great celebration of Caribbean and Afro styles of music.
When to go to Antigua: More Info
Antigua is one of the more exciting southern islands in the Caribbean.  Hiking, zip lining, sailing, snorkeling and more await your vacationing arrival. When it comes to planning your trip, it is important that you leverage other resources to learn more about the island.  Here you can visit the official Antigua Tourism  site for more information.