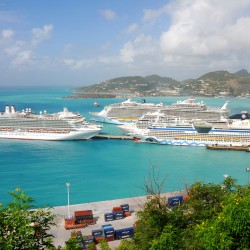 When is the best time to go on a Caribbean cruise?  When to go on a Caribbean cruise and the best time to go, might vary depending on the reasons you want to go.  There are several departure ports for accessing cruises at in the Caribbean. These departure ports include: Galveston, New Orleans, Tampa,  Fort Lauderdale, Miami, San Juan, and Panama.
Similarly, there are a variety of Caribbean cruise destinations.  Visitors can choose to take a southern Caribbean, a Western Caribbean, an Eastern Caribbean, or cruise that hits ports of call along Central America. Because all of these ports and destinations are in the same tropical Caribbean region, this means the weather is fairly consistent and the best times are usually the same. A Caribbean cruise is one of the best ways to experience an eclectic taste of the various island cultures.
The Caribbean cruise season varies depending on reasons people travel.
When to go on a Caribbean Cruise
What is the best time to go on a Caribbean Cruise?   The answer depends on what you want in a cruise experience. If you're interested in lively entertainment, drinking and parties, and crazy excitement for more festive cruise experience, and the best time to go on a Caribbean cruise is between mid February through much of March. It is during these weeks that the college students across the United States have spring break and flock to the cruise lines for fun vacations. You'll also find spring break goers in many of the ports of calls along your way as your ship travels the Caribbean.
If you are looking for a less crowded boat or at least a more quiet boat, then you'll probably want to look at traveling in January or in April which tends to be more void of the partying student crowd.
When to go on a Caribbean Cruise: Weather
What is the best time to go on a Caribbean Cruise?  The best weather for a Caribbean cruise occurs between the months of December through April. These months reflect the driest and best weather. Cruisers should expect sunny days and calm seas. As a tropical region, cruising through the Caribbean as possible and enjoyable throughout the year. June ushers in warmer temperatures which increase the chances of rain, tropical storms, and possibly hurricanes. The hurricane season runs from June through November.
Hurricanes are actually doubtful, but there's still a great probability of rain and rougher seas. The ships have no problem running a hurricane and can easily alter ports of call to keep your cruising vacation going. The drawback is that you me have an altered itinerary taking you to a destination that you preferred less than where you were originally going.
When to go on a Caribbean Cruise: Cruise Seasons
What is the best time to go on a Caribbean Cruise?   The best time to go on a Caribbean cruise is usually during the high season is at is what usually reflects the best weather. The primary cruising season runs from December through April. This is when most people escape the cold North, college students and high school students get spring breaks, and the weather is at its best. This combination means many people go cruising during these months.
High Season:

 The high season includes Christmas break, first two weeks of January,  mid February through early April, and then again late June through August. The June through August season as high as that is when many families get summer vacations and they opt for cruising in the Caribbean. The weather is warmer during these months which makes swimming in the ship pool and water activities at the ports of call more enjoyable. One drawback on this time frame is that it coincides with the hurricane season as noted above.
Low Season:

 Low season incorporates the latter part of April through May, in September through January apart from the Christmas breaks. The benefits related to traveling during these times is usually lower rates, potentially less people, and a more relaxed cruising experience void of the loud party going spring breakers.
When to go on a Caribbean Cruise: Cruise Lines
What is the best time to go on a Caribbean Cruise?   when the best things to do in planning your Caribbean cruise vacation is to explore the cruise lines, the itineraries, ports of call, and the ships making the trip. Some people choose a Caribbean cruise based solely on what the ship has to offer.  Here you  can explore some of the various cruise lines: