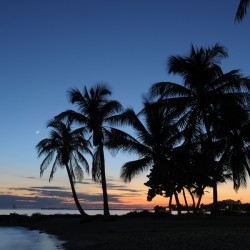 When to go to Key West? Key West is situated at the southern most tip of the United States. This tropical locale is well known for its historic sites, warm beaches, lively nightlife, and water sports. Key West could easily be considered the capital for casual drinking and lounging around. When the common activities is to have a drink, sit out on the patio, and watch the sunset into the ocean.
Duval Street is possibly Key West's most spirited strip of cafés, bars and shops. It is also here that you will find Sloppy Joe's bar, which was a favorite hangout for Ernest Hemingway. You are invited to be like the famous author and make your way down to Key West for some hanging out and relaxation.
When to go to Key West
Late March through early May is probably the best time to go to Key West. It is during these months that you will have the greatest chance for clear skies and the craziness of spring break college visitors has dissipated. This will make it easier for more casual and relaxing experience of this tranquil paradise.
When to go to Key West: Weather
The weather on the island is considered subtropical with the nappers temperature of 78°F. The months from December through May represent the dry season in Key West with the mildest temperatures. As noted above, December, January and April are ideal months to try to visit Key West because of fewer crowds and craziness from spring break visitors which can happen through mid-February through much of March.
June ushers in warmer temperatures along with the hurricane season which will last through November. Key West is vulnerable to tropical storms, thundershowers and potential hurricanes. Whether hurricane goes through the Caribbean, Gulf of Mexico, or up the East Coast, Florida and Key West seem to experience the rain either way. These months are still appropriate time to visit Key West because the likelihood of a hurricane is actually doubtful. This is something for you to be aware of as you plan your trip to Key West. More than likely will find sunny skies and warm temperatures for getting out and enjoying outdoor water activities.
When to go to Key West: Holidays and Events
Holidays and events can be something that attracts visitors who desire the festivities or it can be a reason to stay away so that you can avoid the crowds. Key West is a popular destination during spring break this college students and older high school students will make their way to Florida and these islands to escape the cold and the stresses of school. This often means lots of drinking, loud music and big parties. Spring breaks occur from mid February through much of March for various schools across the country. So this is the time of year that you want to go if you're looking to participate in the festivities were time to avoid if you're looking for more relaxing vacation.
Hemingway Days Festival

–  A popular celebration that recognizes the life of Ernest Hemingway. This festival week includes various competitions like a look-alike contest where white bearded, fat men are caught in the Sloppy Joe's bar. You'll also find a short story contest of aspiring authors, a marlin fishing competition and a mockup fake ' running of the Bulls' in honor of the novelist's fondness for bullfighting. This is an approximately weeklong celebration that occurs mid to late July.
Key West Pride

–  A five-day celebration that includes a film festival, dance parties, drag shows, bike tours, pride pageants, and a clothing optional pool party. This week caps off with a 'Pride in Our Community' parade down Duval Street. This alternative lifestyle celebration is a reason for some to visit the area, while for others it might be a time that makes them uncomfortable. It could be a reason to opt for different time to visit.
Key West in the Florida Keys almost always has something going on with comes to fishing tournaments, musical celebrations, or other island festivities.Although not exhaustive, here is a link to a calendar of events for this relaxing haven.
When to go to Key West: More Info
Key West is famous for casually walking around with drinks were sitting on the deck watching people, the beautiful setting, and the sun sets the spectacular colors.As you plan your trip for visiting Key West in the Florida Keys, it is important that you learn as much as you can in order to equip yourself with the best vacation possible. Here you can have access to the Key West tourism site for more information.