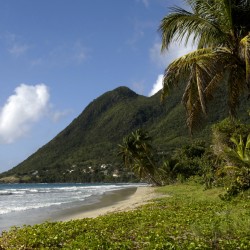 When to go to Martinique?  Most people that asked the question want to know what is the best time to go to Martinique.  Traveling to this island gives you a chance to touch the cultures of both the Caribbean and France at the same time. Martinique is full of culture, history, and cuisine that engages to about anybody. Of course as an island in the Caribbean, visitors can expect to spend time on the beaches as well.
One of the things that is different about Martinique compared to many other Caribbean islands is that the silent offers other outdoor activities. Visitors will discover Rocky, mountainous terrains with lush rain forest filled with mongooses, blackbirds and hummingbirds for those who love nature and the outdoors. Hiking, photography and birdwatching are enjoyable activities on this island.
When to go to Martinique?
November closes the door to the hurricane season. The best weather along with many festivities make the months of December through April the best time to go to Martinique.
When to go to Martinique: Weather
Martinique is situated in the heart of the Caribbean's Eastern group of islands, which means that it is likely to have an enjoyable temperature for most of the year. Even during the summers hottest months it does not get over 85°F. Similarly, during the winter months which run from December through early March the temperatures rarely get below 75°F.
Based on the weather, probably the ideal month to go to Martinique is in April. Here you will have temperatures in the low 80s, little threat of tropical storms, and the crowds from spring break college students will be less.  The summer months with the warmer mid-80s temperatures invites visitors who like to enjoy time on the beach and other outdoor activities. The only drawback is it starting in June through November you will have a greater chance of experiencing thundershowers or tropical storms.  Although doubtful, this is also considered hurricane season.
When to go to Martinique: Holidays and Events
Martinique is no exception when it comes to festivities in the Caribbean.  There are celebrations and events may be the reason that draw you to the island or maybe something that you want to be aware of so that you can choose a different week for your ideal experience.
Vaval

–  This is Martinique's Carnival which is the most popular event on the island. This four day festival lots of music features, masquerades, and a parade which provides visitors with an exciting taste of the islands culture and excitement.   Each day features of theme with costumes that showcase the carnival. It is one of the most colorful and exciting carnivals and all of the Caribbean. This carnival takes place annually in the early part of February. For some this is a key reason to go to Martinique were for others who are looking for a more relaxing and quiet time, they will want to select an alternate time to go.  In 2011, National Geographic labeled this as one of the top-10 carnival celebrations.
Martinique is also famous for boating events and festivities.  Here's a quick glance at some of the boating events.
When to go to Martinique: More Info
Martinique is an incredible island that offer so much more than the traditional beach goer's vacation.  If you're wanting to engage one of the islands special carnivals for celebrations it's important to check calendars for specific dates.  It is also good  to learn more about the island and what it has to offer for planning for your best experience possible.  We always encourage you to explore other resources to get the most information you can.   Here you can access  the Martinique tourism office for more information.