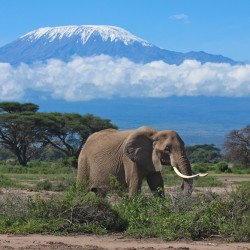 Mount Kilimanjaro is an inactive strato-valcono located in Northern Tanzania.  The peak reaches a height of 19,340 feet (5,895 m) making it the tallest mountain in Africa.  Affectionately known as "the rooftop of Africa," Mount Kilimanjaro is recognized as one of the 7 Natural Wonders of Africa.
Tanzania is home to three of Africa's natural wonders with Mount Kilimanjaro serving as the pinnacle wonder for Africa.  The mountain is protected as a national park and is easily a highlight of the national park system.  Some people are happy seeing the snow capped mountain, but there are many who inspire to climb this a mazing feat of nature.  So gear up and get ready to see and experience Africa's tallest mountain.
When to go to Mount Kilimanjaro
Tanzania and Mount Kilimanjaro are located near the equator. This means that the temperature is fairly consistent throughout the year making the destination accessible year-round. The best time to visit this national park, see the mountain, or climb to the summit does vary.  The dry seasons that include the months of January and February and June through August are the target times to go to Mount Kilimanjaro.
When to go to Climb Mount Kilimanjaro
Although the temperatures do not vary dramatically, there are seasons that represent a better time to climb. January and February are the two warmest months making the climb most comfortable as you reach higher elevations. It doesn't matter what time of the year, it can be extremely cold reaching temperatures near or below freezing and worsened by cold winds.
August and September are the driest months creating another good season for climbing Mount Kilimanjaro. June and July are the coolest months, which means the summit can be even chillier. It is still an appropriate time to climb.
If you have an option, you probably want to avoid the months of April and May which are the wettest. Although you can climb in the rain, it does make it more challenging and more uncomfortable. Even during the drier months, it is quite possible to experience an afternoon shower. These are usually shorter and move on.
When to go to see Kilimanjaro
Technically you could see Mount Kilimanjaro any day of the year. However August and September are the driest months and have the best chance for clearer weather. The best time to see Mount Kilimanjaro occurs in the earlier parts of the day. The greatest chances of seeing the summit occur in the morning because as the day goes on and the temperature rises clouds tend to congregate around the peak.
It is not uncommon for the summit to be buried in the clouds even on what would be considered a bright sunny day. Again, the best chance to see the summit of Kilimanjaro will occur in the earlier morning hours. Outside of that you would just have to hope for clear viewing of this wonder of nature.