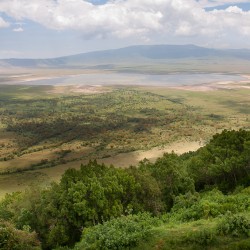 When To Go to Ngorongoro Crater?  Ngorongoro Crater is part of the Ngorongoro Conservation Area. Authorities argue that as a conservation area, the restrictions and protections are stronger than a national park. Ngorongoro Crater is one of the 7 natural wonders of the world. The crater is in good company because Tanzania is home to three of the wonders of nature from Africa.
Ngorongoro Crater provides an opportunity for visitors to experience 5 of Africa's Big 7, which include the lion, leopard, elephant, hippopotamus, and rhinoceros. Although the leopard is doubtful because it is usually atop the rim in the forest, you have a fair chance of seeing the other animals. The crater provides one of the most intimate encounters with wildlife and nature.
When to go to the Serengeti: Weather
Tanzania, and Ngorongoro Crater, are near the equator which keeps temperatures fairly consistent throughout the year. However, during the months of June through August, temperatures can get chilly atop the rim of the crater can get a bit chilly. A light jacket will often take care of the evening.
The more important question is related to the rains. Ngorongoro Crater experiences rainy and dry seasons versus big changes in temperatures. October and November are the months that feature the short rains. The heavier and longer rains show up between the months of April and May. Both seasons of rain create challenges for vehicles, but the heavy rains deter travelers creating a true low season.
The short rains end at the close of November and for sure by December. The light rains create green and new life within the crater making January and February a pleasant time to visit. The Ngorongoro Crater season extends from June through November with the leading dry season occurring between August and September.
When to go to the Serengeti: Wildlife Viewing
You can see animals in Ngorongoro Crater all year long. There is less of a problem of finding wildlife that might occur in the Serengeti or other open range areas. However there are times of the year where there are more wildlife on the floor of the crater.
The months of January and February are great months to visit the crater because the floor is full of wildlife. Even more noticeable is the abundance of babies following their mothers around. Ngorongoro Crater provides travelers with the most intimate encounters with wildlife and the babies running around during these two months only make it better.
Although not known for the migration, Ngorongoro Crater will witness an increase in the number of wildebeests when the herds are in this part of the Serengeti. Wildlife can enter and exit the crater, but there is always animals to experience once you are inside the rim of the crater and down on the floor.