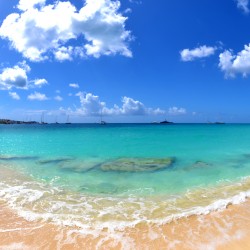 When to go to St. Maarten?  This is possibly one of the most exciting islands in the Caribbean. The visit to this island actually provide you with an opportunity to visit two different countries.  The island is home to both St. Maarten and St. Martin, and collectively each offers a different experience. It is worth your while to spend time on both sides of the island.
Travelers to the island have the opportunity to explore three different unique cultures.  On one side, there is the Dutch seriousness and delightfulness, whereas on the French side there is more of a savor-faire.  As you near the border between the two sides, you actually get a different culture that represents a blend of the two. Visitors to St. Maarten  will find gourmet food, lively nightlife, world-class shopping, unspoiled beaches and year-round good weather. This makes it easy for this to be your Caribbean destination.
When to go to St. Maarten
The simplest and broadest best time to visit St. Maarten is between the months of December through May which represents the dry season. The best time to go to St. Maarten can be narrowed down to the months of either January or April. These two months have the sunny but comfortable days weather wise, but avoid the crowds that spring break delivers during mid-February through most of March.
When to go to St. Maarten: Weather
St. Maarten is a tropical island and generally experiences good weather all year round. the temperatures only vary around 5°F throughout the year. Mid-70s to upper 70s and low 80s is what travelers should expect.  The hurricane season launches in June and runs through November. The good news is the likelihood of a hurricane touching down on the island is doubtful in the majority of visitors to the island during the season will experience warmer and sunny days. It is important to note that there's a greater chance of a thunder shower or tropical storm. Just like anywhere around the world they can actually rain at any time, but overall travelers should expect beautiful sunny days is explore this exquisite island.
When to go to St. Maarten: Holidays and Events
One of the biggest and most celebrated festivities in the country is a two-month carnival which begins in January and runs through February each year. Tourist were here during these months will experience street parades, beauty pageants, barbecues, concerts and more.
Another popular celebration is St. Maarten's Day (St. Martin's Day) which is celebrated on November 11th each year. During the celebration visitors will also experience a parade, jump-ups and sporting events.
You will find other festivals and events on either side of the island they create festive and celebratory moments. Most people find these to be fun activities to engage local culture and celebrate. However some people prefer to have a more quiet and relaxing vacation,  this may lead many to offer a different time of year.
When to go to St. Maarten: More Info
Traveling to St. Maarten or St. Martin is an exciting endeavor. Both sides of the islands offer so much for visitors. It is important that if you have limited time for you explore the options on each side of the island to see what is most appealing to you. Here you can find information from the St. Maarten tourism office or from the St. Martin Tourism Office.