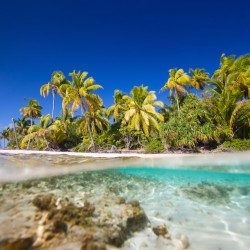 Tahiti is one of those destinations that everyone should get to experience at least once in a lifetime. A destination that can easily be described as a taste of paradise. Pictures from Tahiti are often what highlight the list or recommendations for the best beaches, most romantic paradises or the greatest secluded vacation spots from around the world.
Tahiti is the largest island from French Polynesia. It is located in the Pacific ocean in the archipelago of the Society Islands. The island reaches a peak of 7,352 feet (2,241 m) making it the highest point in all of French Polynesia.
When To Go To Tahiti
The best time to go to Tahiti is any chance you get. In all seriousness, the best time to visit Tahiti is going to occur between the months of May through October. If you are getting ready to embark on a vacation to Tahiti, get ready for a taste of heaven.
When to go to Tahiti: Weather
The temperatures in Tahiti are fairly consistent ranging from 70°F to 88°F (21°C to 31°C). The high season temperatures average around 77°F (26°C ), and range between 70°F to 82°F.
The more important weather consideration is the rainy season. January experiences the most rain, with the rainy season including the months of November through April. Both December and January will experience approximately 12 inches of rain through the month creating the peaks of the rainy season.
August is usually the driest month, with June through September each representing one of the drier months. May and October are added to the ends of this period to round off what would be considered the overall dry season.
The first of May running through the end of October is considered the high season, which is also the best time to go to Tahiti. During these months the temperatures are milder and the rains have subsided making for a tremendously relaxing environment. Cool breezes, fair temperatures and exquisite scenery may have you looking for ways to just call Tahiti a permanent residence.
When to go to Tahiti: Events and Activities
The largest annual Tahitian festival, known as Heiva Nue Festival, happens during the month of July. The festival features dancing, singing and lots of food. For some this is a reason to go, whereas for others it is a reason to avoid the island.
Beaches, swimming, snorkel, diving, kayaking, caving canoeing or just lounging around are all mostly enjoyed during the dry season. It is hard to find a day that is not beautiful.
When to go to Tahiti: More Info
Tahiti is a destination that represents an encounter with paradise. Make sure you explore your options for making your trip the best it can be. When To Go always recommends visiting other sources for more information. You can learn more about Tahiti from the Tahiti Tourism Board.