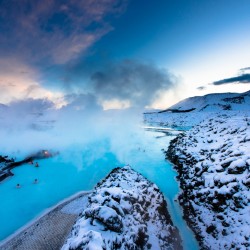 When to go to Iceland? A country full of natural beauty, endless adventure opportunities and friendly locals ready and willing to welcome visitors and guests, Iceland is quickly becoming a popular destination for those seeking a unique and different experience.
Take a road trip around the entire country stopping to snowmobile through the mountains, find a place to post your tent and gaze upon the Northern Lights or join in on a neighborhood bonfire with locals. Take part in all these and so much more when you visit Iceland.
When to go to Iceland based on Weather
Despite its latitude and location just south of the Article Circle, Iceland has fairly mild temperatures because of the warm North Atlantic Current that comes through. Winters are typically mild and windy while the summers are cooler. From December through February the average high temperature is about 36 degrees F whereas the average summer temperatures from June through August fall anywhere between 54 and 60 degrees F.
Though nights see temperature drops it's usually no more than about 10 degrees difference than the day temperatures. It's important to know that no matter what month you decide to go to Iceland, chances are you will encounter overcast skies, fog, wind and some rain.
Best times to go to Iceland 
The peak tourist season is from mid-June through August in the summer months. This is because people know that it's a little bit warmer and bearable than the winter months but it also means that accommodation prices as well as flights into Iceland will be significantly more expensive. During the fall, spring and winter months you will see a drop in prices from hotels, flights and car rentals.
If you decide to visit during the off season particularly from October to mid-May, you may encounter many tour and adventure trips closed up and shut down until peak season occurs again. If you find yourself in Iceland during this time, most head to the capital, Reykjavik to enjoy the nightlight and activities that are still available such as spas, snowmobiling and horseback riding.
When to go to Iceland for Northern Lights
Although luck has a lot to do with being able to witness the splendor of the Northern Lights, it's been widely proven that September to mid-April offer the best chances. These are the months where there are full dark nights, which is the most important factor in being able to see them. Others have said that November to February chances are even higher because of even darker nights and with longer durations.
If you want to have the greatest chances of seeing them, make sure you are in Iceland for a longer amount of time preferably when the weather isn't so rainy or snowy. That is the trickiest part since the weather does tend to have both of those effects during those months. Whenever you are there and no matter how long you decide to stay in hopes of catching them, if you do it will be well worth the long wait!
When to go to Iceland based on Festivals
Westman Islands Camping Festival:  Taking place typically on the first Monday in August, this is the biggest camping weekend of the year as well as a bank holiday weekend. The crowds grow to nearly 16,000 people camping, eating traditional food, drinking and enjoying their time together. You can see bands playing and make friends with the locals inside their white tents lined up next to each other.
Iceland Airwaves Music Festival:  The biggest music festival that promotes several emerging and established national bands as well as international performers takes place November 4th through the 8th. It's located in the capital of Reykjavik and is guaranteed to make your visit to Iceland exciting and full of fun and great music.
Gay Pride: One thing is for sure, you do NOT have to be gay, lesbian, bisexual or transgender to attend this colorful and fun event! It is one of the biggest festivals thrown throughout the year and everyone seems to make it a priority to attend. Loud music, costumes and of course glitter will all be a part of your day if you attend this great event in the beginning of August.  For some this is  reason to go and for others it might serve as a time they want to avoid.