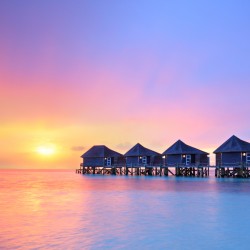 When to go to Maldives? Located in south-central Asia and extended miles from any nearby mainland, this chain of islands is filled with white-sand beaches and shores, luxurious resorts and all while being surrounded by the Indian Ocean teeming with an incredible marine life. With postcard perfect sceneries everywhere you look, it's no wonder why Maldives is a highly sought out tourist location.
The best time to go to Maldives depends on the reasons you want to go.  The good news is you can go and experience this tropical paradise any time of the year, but there are better times to go.  Read the information below and discover when to go to Maldives.
When to go to Maldives based on Weather
Though visitors can be found year-round in Maldives because of the tropical climate and constant warm weather, there are certain times that may be better depending on your holiday preferences.
Monsoon Season: There are two specific times of the year that Maldives gets hit by monsoons: July-August and a longer stretch from November-March. Although it is difficult to tell when the monsoon will arrive seeing as it's not typically an every day occurrence, it is best to just be aware that they are very likely to happen during a trip in these times.
Summer: Seeing as Maldives falls below the southern hemisphere, the summer months are between December and April. This time is considered the dry time with very hot temperatures ranging from 86 to 92 degrees F (30-33 C). If you decide to visit during this time be sure to stay hydrated and avoid being in the sun for extended periods of time as it can easily cause burns and dehydration.
Winter: May to November are considered the winter months where the temperatures decrease to around 77 degrees F on average (25 C). There is also chance of rainfall during this time but the weather is much more bearable than that of the summer season.
When to go to Maldives based on Crowds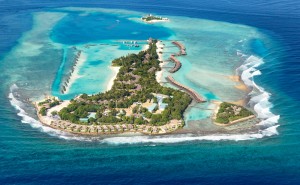 High Season: December through April is considered the high season where you will see the most crowds, although it never actually seems to feel crowded at Maldives. Room rates and prices will increase during this time so be sure to plan very far in advanced on both airfare and accommodation if you decide to visit during high season.
Low Season: From May to November, you will find much fewer people and much better deals on hotels and even the luxury resorts in Maldives. Although this is the time when rainfall does occur, this is considered to most people the best time to go.
Best times to go to Maldives based on Activities
Surfers: From April to June is widely considered the best time to surf in Maldives. During this time there's bigger chances of both glassy waters and a consistent swell. If you happen to heading to Maldives in June then be sure to check out the O'Neill Deep Blue Open WQS contest where you will find surfers flying in from all over the world in hopes of going pro.
Snorkeling & Scuba Diving: During the winter season from May to November is considered the best time for snorkeling and scuba diving. This is because of the increased water clarity and overall better visibility while admiring all of the magnificent sea life below the surface.
Windsurfing & Kitesurfing: Both of these activities have become quite the popular attraction for tourists where many resorts and tour companies offer lessons and rent out equipment. The best time for beginners to try out this fun experience is during the summer where the monsoons aren't threatening the waters. However, for pros and experts the best time is exactly the opposite; they are able to benefit from the monsoon season as it creates more wind.
Fishing: The summer is the best time to head out to sea and experience fishing through either your resort or a fishing tour company. If you are in the mood to try something different than just a normal day of fishing, try the night fishing that is also offered. Your boat takes off before sunset, heads towards a nearby reef and before you know it you have caught your first fish! With the boat crew guiding you on what to do and what type of fish are out there to catch, it is truly an experience of a lifetime.