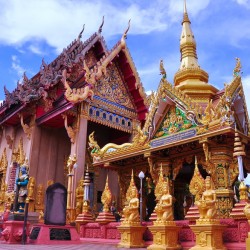 When to go to Thailand? With crystal clear blue waters filled with tropical fish in the south to the lush jungle and mountains perfect for trekking and hiking in the north, it's no wonder Thailand is one of the top destinations in Southeast Asia.  The best times to visit Thailand will depend on what your reasons are for going.
There are festivals, activities and events guaranteed to satisfy any type of traveler. Some may recognize the shores of Maya Bay in Phuket, Thailand as having seen them in the famous movie, The Beach, which stars Leonardo DiCaprio.
Thailand is also an iconic cultural destination with numerous temples and religious structures that amaze travelers.  There are numerous reasons to visit Thailand, just be warned that this wondrous place is known to lure visitors into coming back time and time again.  Now, you just want to know, what is the best time to go to Thailand?
When to go to Thailand?
Seeing as all of Thailand is known for their tropical climate, there can be visitors coming into the beautiful country during any given time of the year. However, with tropical weather comes a few months of the year with tropical rain showers and even monsoons that you should be aware of before traveling.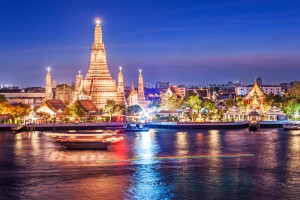 Best Time to go to Thailand based on Weather
These wetter months are called low season and they go from July through October. High season that brings in the most crowds is November through March where temperatures are cooler and much more dry. Between April and September, the climate offers a hotter and even drier time of the year.
When to go to Thailand for Tourist Related Activities
Thailand is famous for their fun and exciting festivals that happen sporadically throughout the year. If you plan your vacation to make it to at least one of them, you are in for a real treat.
–Songkran Festival: Imagine the water fights you would have with balloons and squirt guns as a kid in your neighborhood. Now imagine an entire country participating in one huge gigantic water fight. That is exactly what Songkran Festival is. It takes place April 13-15 and is a time to celebrate their traditional New Year. Every city takes part in the festivities and is no doubt a must activity if you are able to participate.
Yi Peng Festival: Every year in November and it is nothing short of magical. Celebrated most elaborately in the northern city of Chiang Mai, thousands upon thousands of sky lanterns fill the night sky. Those setting off the lanterns are supposed to make a wish as it ascends. If you are able to witness this, it is sure to be one of the most peaceful and memorable sights of your life.
With so many sights to see and activities to participate in, Thailand will continue to be one of the best countries to visit in Southeast Asia.
For more information on when to go to Thailand
When To Go always recommends looking at other resources for more information. You can visit http://www.thaiwave.com/attractions/top10-attractions.htm for additional insights on your travels to the beautiful country of Thailand.