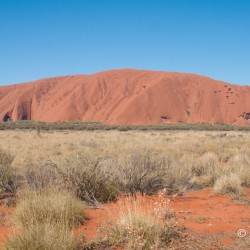 When to go to Uluru? A colossal red rock also commonly known as Ayers Rock, stretches over a circumference of 5.8 miles (9.4 kilometers) and makes Uluru the largest monolith on earth. Located in the Australian Outback and over 200 miles away from the nearest city or town any visitor is advised to get fully prepared in their visit to this magnificent site.
Visiting Uluru is an encounter with one of the Seven Natural Wonders of Oceania.  It is one of the Australia nature attractions that leaves you wondering how in the world did this get here.  It is a sacred place for locals and a wonder of nature for the rest of the world.
When to go to Uluru based on weather
In this region of Australia, the climate tends to see very hot and dry days with much colder nights. Some of the aboriginal people are known to believe that Uluru sees five separate seasons throughout the calendar year. Though this belief varies depending on the person, one certainty to take into account is that this land contains very extreme weather conditions.
Reminder: Australia's seasons are opposite to those of North America and Europe.
December-February: Incomparably the hottest time of the year where temperatures can reach up into the low 100's F (37 C). If you plan to visit during this time make sure to stay extremely well hydrated.
May-July: These are the winter months where temperatures have a wide range of the lowest being 38 degrees F (3.5 C) and the highest at around 65 degrees F (18 C) during the day. Of course the nights will be the coldest so be sure to pack accordingly for all times of the day.
August-November: Temperatures start to rise from the winter during these months making it a very comfortable time to visit Uluru. Also, during these months the landscape is known to provide breathtaking shifts of lighting to witness. Daytime temperatures range from the low 70's to the low 90's F (22-34 C) with nights being very cold.
March to April: Although these months can see the most clouds and rainfall of any other months, chances are that you won't see too much as the yearly rainfall is only about 1 foot per year. Temperatures range from the 50's to the 80's F (10-27 C).
When to go to Uluru based on trekking
Though trekking and hiking around Uluru either by yourself or in a group tour is considered OK, you should take into account that the people of Ulura strongly advise and ask visitors not to actually climb the rock. Because of its high elevation of 2,831 feet (863 meters) along with the extreme weather, there have been near to 35 deaths while climbing the rock.
With that being said, the best time to trek and take in Uluru in all of its glory would be either sunrise or sunset. At both of these times visitors will find that the light tends to hit the rocks in the most serene ways that make it look as though the entire rock and desert is on fire.
If you are wanting to capture Uluru at its most stunning, these would be best times to take out your camera and start snapping away. Once you've got plenty of pictures, set up a picnic and simply gaze at all the beauty that surrounds you.
When to go to Uluru based on the crowds
The peak season at Uluru is always July and August where you will see the most crowds. The second largest tourist season is April through October. Although there is only one single company that owns the accommodation options throughout Uluru, you will see a dramatic increase in prices during these seasons.
If you would like to save money during your visit to Uluru, it is advised that you go in the summer months of November to March where the hotels are heavily discounted. Though this will save you most likely hundreds of AUD it is important to also remember the weather that takes place within these months. If you would rather have less crowds and spend less money and don't mind the heat of the summer, then the summer months are the best time to go.