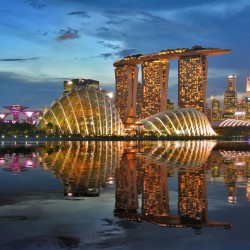 When to go to Singapore? Full of amazing mega-malls, hundreds of parks and over 60 islands to see and explore, it's no wonder why Singapore keeps drawing in so many travelers each year. Although many see Singapore as a business haven, it is becoming more and more suitable for couples and families to travel to as well.
With the country being somewhat of a cultural melting pot, you are sure to find delicious cuisines and meet people from heritages all over the globe.  Trying to decide the best time to visit Singapore depends on your interests and preferences.  Read on and discover more about Singapore and when to go.
When to go to Singapore based on the weather
Lying only 85 miles north of the equator, guarantees you tropical weather that stays hot and humid all year-round (74-88 degrees F). Although the temperatures are always considerably hot, what does change throughout the months is the amount of rainfall from the two main monsoons that occur. With no definite seasons, the rainfall and slight temperature changes are the two factors that may help in deciding when to go to Singapore.
Northeast Monsoon
Generally taking place from the beginning of November to mid-March, be advised that heavy rainfall will occur during these months. The heaviest being in November to January where the rainfall really picks up and the monsoon becomes the most extreme. This allows for slightly cooler temperatures. These rainfalls only last usually for an afternoon but sometimes may drag out longer on certain days.
Southwest Monsoon
The second monsoon takes place from May to September. This monsoon sees much less rainfall than that of the Northeast Monsoon, especially in June, July and August. These rainfalls usually occur in the morning time and only last for about one or two hours. Thunderstorms are also very common during this time of the year. Though this is based on past weather conditions, at any given point of the year, rainfall may occur so you should be prepared for this before embarking on your journey to Singapore.
Remaining Months
The months that fall in between these two monsoons are April/May and October/November where there is still slight rainfall but not as much. During these months the rain will fall in the afternoon and evenings. The humidity during this time will most likely be 70-80% with the mornings being the muggiest.
No matter what time of the year you are visiting, always be sure with the high humidity and temperatures you drink plenty of water and avoid being out in the heat for long periods of time.
Best Times to go to Singapore
Singapore sees many business travelers throughout the year, which increases the accommodation rates. However, during the months of July and August this tends to decrease, making these two months the best time to go to Singapore where you can negotiate better rates.
The highest peak season will be from mid-December and last through the end of January or beginning of February depending on what day the Chinese New Year takes place. If you are traveling during this time, be prepared for travel agencies and accommodation to be fully booked with very little chance to find any sort of good deals.
When to go to Singapore based on Festivals
Thaipusam Festival: Celebrated by Hindus to give thanks to Lord Subramania, the child god representing virtue, youth, valor and beauty. Taking place in late January/early February you will find gigantic steel racks decorated in fruits and flowers that pierce the men who have made special wishes to this god.
This will happen in parades from Sri Perumal Temple in Little India and make its way down to the Sri Thandayuthapani Temple. The men also pierce their tongues and cheeks with skewers and may even hang fruits from the hooks. If you find yourself here during this festival you are in for a rare and unique treat!
Singapore World Invitational Dragon Boat Races: Held in devotion to Qu Yuan, a patriot and poet during the Warring States period (475-221 B.C.) who threw himself in a river to keep from suffering to see his state fall into the hands of corrupt leaders. Now, rowing teams from over 20 different countries compete while loud drums beat and people cheer from the land. This race takes place in late June or early July depending on the year.